123456789012

123456789012

12345
Accessories
Gas Cans, Gear Bags, Hour/Tach Meter, Lawn Mower & Tractor Cover, Oil Pump Kit, Protective Clothing, Ramp Kits, Seats & Covers, Tire Chains, Tire Sealant, Tires & Tubes, Wheel Rims

Air Compressors & Parts
Parts for all major manufacturers


ATVs Parts & Accessories
ATV PARTS ARE BEING ADDED DAILY.
ATVs, ATV Tires, Starters & Kits, And More .

Chain Saws & Parts
Saws, Pruning Saws, 2 cycle engiine & Bar Oil, Accessories, Bars & Chain, Parts by Manufacturer, Protective Clothing, Screnches, Sprockets, Tools


Commercial Mowers
Parts by Manufacturer, Bed Knives & Blade Reels, Gator Mulching Blades, W.E. Chapps Protective Gear


Engines(Small)
Briggs & Stratton, Honda, Kohler, Tecumseh, Go Kart


Engines Parts & Accessories
Briggs & Stratton Quick Reference, Carburetors & Parts, Engine Rebuild Kits, Internal Engine Parts, Starters and Starter Parts, Parts By Manufacturer, And More...


Equipment
Chain Saws, Cut Off Saws, Hedge Trimmers, Honda Generators, Honda Tillers, Lawn Maintenance, Leaf Blowers, Snapper Push Mowers, Trimmers


Generators & Parts
Coleman Generator, Generac Generator, Generator Transfer Switches, Honda Generators, Quiet Mufflers








Pressure Washers, Parts & Accessories
Campbell Hausfeld, Generac, Spray Nozzles, Trigger Spray Guns, Wands & Lances, And More...


Special Priced Items
Briggs & Stratton 6.5 HP Quantum Engine, Honda FG100 Mini-Tiller, Quick & Easy Mini Tire Changer

Marine
Briggs & Stratton Outboard Engines


Tillers & Parts
Tillers, Parts By Manufacturer


Tires, Tubes & Wheels
ATV Tires, Axle Bolts, Caster Wheels, High Speed Trailer Tires, Inner Tubes, Lawn Mower & Tractor Tires, Plastic Light Duty Wheels, Spoke Wheels, Steel Light Duty Wheels, Slime, Tire Chains, Valve Stems, Wheelbarrow & Lawn Cart Wheels, Wheels By Manufacturer, Wheel Rims


Trimmers & Parts
Trimmers, Hedge Trimmers, Parts By Manufacturer


Go Carts & Parts
Go Cart Engines, Manco Go Carts, Go Cart Parts & Accessories


Lawn Mower & Tractor
Parts By Manufacturer, Battery Parts, Blades, Blades(Gator Mulching), Belts, Filters: Oil & Transmission, Hour/Tach Meter, Key Switches, Solenoids, Seats/Covers, Tires & Tubes, Wheels, And more...


Lubricants
2 cycle engine & Bar Oil, Grease, Oil, Oil Pump Kit


Manuals
Briggs & Stratton Repair Manuals, Campbell Hausfeld Service Manuals, General Repair Manuals, Kohler Repair Manuals, Kohler Parts Manuals, Simplicity Repair Manuals, Techumseh Repair Manuals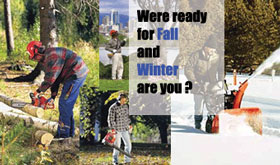 New Replacement Parts
WE HAVE ADDED THE FOLLOWING MANUFACTURERS TO OUR SELECTION OF COMMERCIAL, LAWN & GARDEN TRACTOR AND TRIMMERS PARTS!


It is Time to Tune Up your Equipment!
SAVE MONEY ON PARTS


We carry parts for most brands of lawen and garden equipment!

Engine Parts


Proper maintenance on your engine is the key to avoid costly repairs!

Belts & More Belts

Belts for Murray, Sears, MTD, AYP, Poland and almost any brand you can think of


Blades

Replace your old blades BEFORE spring!
What's Hot

Drastically Lowered Prices!!!